Condoleezza Rice for President of the European Union.
Condoleezza Rice, the former US Secretary of State under President Bush would have made a great president of the USA and still may do, perhaps if she runs in 2012 but until then we Europeans should give Condi a wee shot of being President of Europe. If she is elected US president, she can decide if she wants to be president of both the EU and the USA or just the USA.
Condoleezza Rice for European Union President. Condi in the ring.

(YouTube)
Brown Girl in the Ring of Yellow Stars
These pictures of Condi with the top European leaders from
message 2047 of Rice for President Yahoo Group
.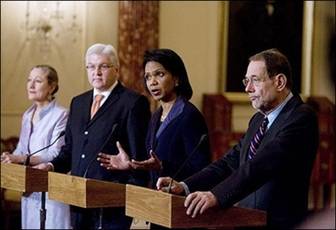 Condoleezza Rice with senior European Union leaders. German Foreign Affairs Minister Frank-Walter Steinmeier in the capacity of the EU Presidency, EU foreign policy supreme Javier Solana ® and EU Commissioner for External Relations Benita Ferrero-Waldner
German Chancellor Angela Merkel and Condoleezza Rice about to kiss, well cheek to cheek anyway.
France's President Nicolas Sarkozy ® escorts U.S. Secretary of State Condoleezza Rice after their meeting about the Russia-Georgia conflict at the Fort de Bregancon residence in Bormes-les Mimosas on the French Riviera August 14, 2008.
British Prime Minister Gordon Brown ® and Foreign Secretary David Miliband (L) meet with US Secretary of State Condoleezza Rice inside 10 Downing Street in central London, on February 6, 2008.
US Secretary of State Condoleezza Rice is greeted by former British Prime Minister Tony Blair, who co-chairs the 2008 WEF edition during the World Economic Forum opening session 23 January 2008.
Secretary of State Condoleezza Rice, right, meets with Italian Foreign Affairs Minister Franco Frattini, Tuesday, July 29, 2008, at the State Department in Washington.
Spain's Prime Minister Jose Luis Rodriguez Zapatero, left, shakes hands with U.S. Secretary of State Condoleezza Rice, right, in the presence of Spain's Foreign Minister Miguel Angel Moratinos, center, after a meeting at the Moncloa Palace, in Madrid, Spain, Friday, June 1, 2007.
International Conference on Iraq - 22 June 2005 - Brussels. Condoleezza Rice and Jean Asselborn, Minister for Foreign Affairs
Discussion point -
Can an American become the President of Europe?
Why not?
Europe does not have closed borders - no-one has set up a new iron curtain have they? People come from all over the world to study and to work in Europe. I have Indians living to my left, right and above me and most welcome they are.
If you have skills anywhere in the world, Europe has a job for you - this is true in the private and public sectors, so what's the problem?
It would be stupid and self-harming not to hire the best in the world for Europe's MOST important job, president of the EU and Condi is the best, so hire her.
How hard can it be to make Rice a citizen of a EU member country if that was the rule? After they captured him in WW2, the Americans made Wernher von Braun the German rocket scientist (who was working for Hitler trying to bomb us all to hell) an American citizen didn't they, and so got to the moon? So what matters is if the foreigner has the skills that your union needs.
Citizenships can be granted if required I suppose.
There is supposed to be a new EU constitution - I think they call it "the Lisbon Treaty" or something. Has anyone here read it? I have not but The Charter of Fundamental Rights of the European Union looks good and I didn't see anything in there about "Americans not welcome".
I know the US constitution says you need to have been born in the USA to become president, though not to be elected a state governor. Well Europe should improve upon that rule.
Condoleezza Rice is not just any old Bush appointee, nor even just the best of Bush's appointees but rather she is a uniquely talented and exceptional world leader and the world is the poorer for her less prominent role in world affairs since leaving her Secretary of State job. The Americans have dropped the ball so now there could be an opportunity for Europeans to take up world leadership by bringing Condi back to the top tables of world affairs.
Obama & McCain will never find another Condoleezza Rice

(YouTube)
Old order? Well let's just remember Saddam Hussein's old order of Iraq as blessed by
George Galloway
and
Joerg Haider
and let's remember who swept that old order away.
Take a bow Condi.
Messiah Condi, Executioner of the tyrant Saddam

(YouTube)
If you really want the yellow stars to rule the world then you are going to need to put the world's best leader in front of those yellow stars speaking for them as President of the European Union.
Here's another clue as to who that would be -